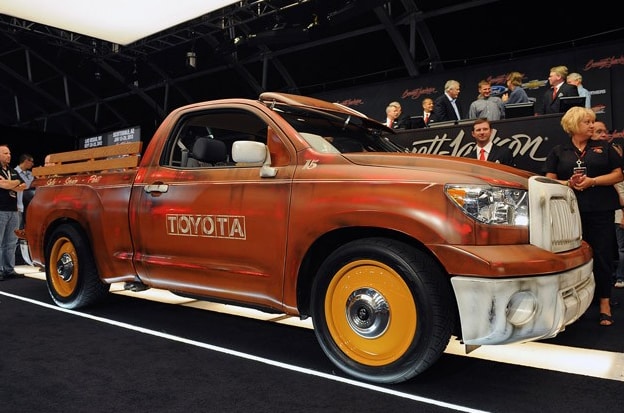 I work for an awesome company that sells cars. My husband works for a worldwide company that makes and sells paint. And, like us, sometimes, our companies work together for the greater good.
This month
Toyota
teamed up with Sherwin Williams to customize a 2011
Toyota Tundra
which was auctioned to benefit a wonderful charity.
Details from Autoblog.com.
If you take just a quick glance at this 2011 Toyota Tundra you might think that it's had a pretty hard life, but a closer look reveals that the rusty appearance is actually a custom paint job from Sherwin-Williams. Built by NASCAR driver Clint Bowyer as a tribute to America's Heartland, the truck features many classic design cues including a vertical bar grille, a wood bed floor and vintage looking 20-inch wheels. Much of the paint job is hand-painted including the white pinstripe to the lettering on the doors, and the interior has a vintage appearance as well, with a set of custom cloth seats.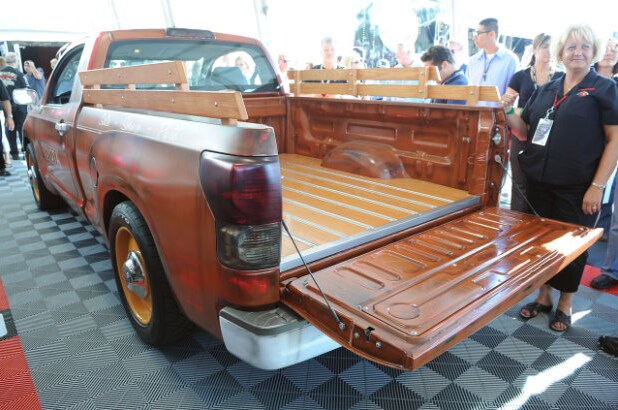 Toyota graciously donated the truck for the auction here at Barrett-Jackson in Orange County with the goal of raising money for the Emporia Community Foundation, a charity that benefits the citizens of Emporia, KS. Bidding for the truck started out slowly, sticking at $30,000, but after Bowyer added a driver suit and a trip to next year's Daytona 500 the price tag skyrocketed to a final price of $100,000.
End of article.
The
Toyota Tundra
is, by far, one of my favorite vehicles here at
Checkered Flag Toyota
. Our
Virginia Beach Toyota
store carries one of the widest selections of new and pre-owned Tundras in Virginia!
Here at
Checkered Flag
, we can get any combination of options, color, and accessories for
Toyota Tundra
. Stop by our
Toyota location on Virginia Beach Blvd
, or call (757)490-1111 for more information.