757 490-1111 or rental@checkeredflag.com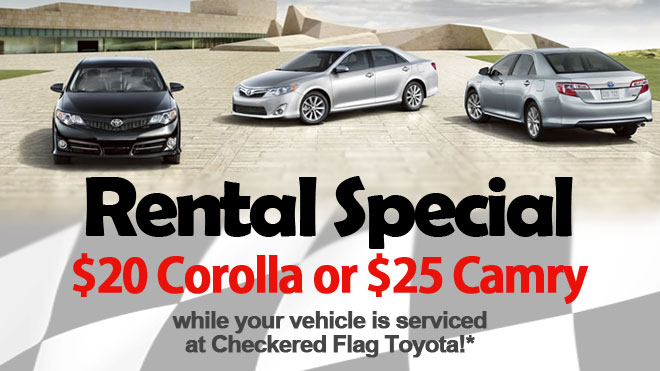 Right now at Checkered Flag Toyota take advantage of a discounted rental of a new Corolla or new Camry while your vehicle is serviced here:

Rent a new Toyota Corolla for only $20 for a 24-hour period. (Regularly $35.99)
Rent a new Toyota Camry for only $25 for a 24-hour period. (Regularly $39.99)
This offer is for Checkered Flag Toyota Service Customers only, while your vehicle is being serviced in our service department. Call today for a reservation 757-490-1111.

Rented with a full tank of gas. Smoking & pets allowed. Driver must be 21 years of age & present a valid driver's license. Reservation required to ensure availability. Customer must return rental with a full tank of fuel. Failure to do so will result in a fuel charge of $6.50/gal. A 10% state tax is applicable.

______________________________________________________________

Our Toyota Rent A Car Agency (TRAC) is the Number 1 Volume TRAC Dealership in Virginia. We are centrally located for all Checkered Flag locations. As always, we will bring you to your rental car or we can make arrangements to deliver the rental car to you - Even if your car is not at Checkered Flag!
Our standard inventory includes the Corolla, Camry, Avalon, Prius, Venza, 4Runner, Tundra Pick-Up Truck, and the Sienna Mini-Van. We often carry other Toyota models.
As a TRAC Dealership, when Toyota launches a new product, you will be able to rent it at Checkered Flag TRAC. This includes the Hybrid-Technology Prius and Toyota's newest brand, Scion! Most recently included in our rental fleet is Toyota's newest product, the Venza!
Renting a car through Toyota Rent-A-Car (TRAC) means that you can:
"Try Before you Buy" - test drive your next Toyota
Drive away in the latest model Toyota while yours is being serviced
Enjoy a long weekend getaway in a current model Toyota
Rent a comfortable, roomy, and dependable Toyota vehicle for out-of-town guests or a business trip
Try something different like the Hybrid-Technology Prius or the exciting new Avalon
Purchase a Toyota Certified Pre-Owned Vehicle, clean and with low mileage
Request a reservation on your Toyota Rent-A-Car Today!
Insurance Replacement*
Your car in for Checkered Flag Service
Full Day
Full Week
Full Month
Just for the Weekend**
Yaris, Scion iQ

$24.99
$33.99
$37.99
$219.99
$699.99
$14.99/day
Corolla
$24.99
$35.99
$39.99
$239.99
$719.99
$19.99/day
Camry, Matrix

$28.99
$39.99
$41.99
$259.99
$799.99
$24.99/day
Prius, Rav4

$32.99
$41.99
$45.99
$289.99
$839.99
$34.99/day
Avalon, Highlander, Venza, Prius V

$39.99
$45.99
$49.99
$329.99
$899.99
$49.99/day
Sienna, Tacoma,
FJ Cruiser

$45.99
$49.99
$59.99
$399.99
$999.99
$59.99/day
4Runner, Tundra
$49.99
$54.99
$69.99
$449.99
$1,299.99
$69.99/day
Sequoia
$59.99
$64.99
$89.99
$539.99
$1,599.99
$89.99/day
Free Mileage
200 miles per day
200 miles per day
200 miles per day
1,050 miles per week
2000 miles per month
600 miles over the weekend
Excess Charges
25 cent per mile over
25 cent per mile over
25 cent per mile over
25 cent per mile over
25 cent per mile over
25 cent per mile over
*Calendar day billing on a valid insurance claim
**Weekend Rental is a 3 day term with pickup on Friday and drop-off on Monday